This post may contain affiliate links. For more on this please see the disclosure
VTech Ride-On Pony OR Discovery Table – ONLY $19.98 Each!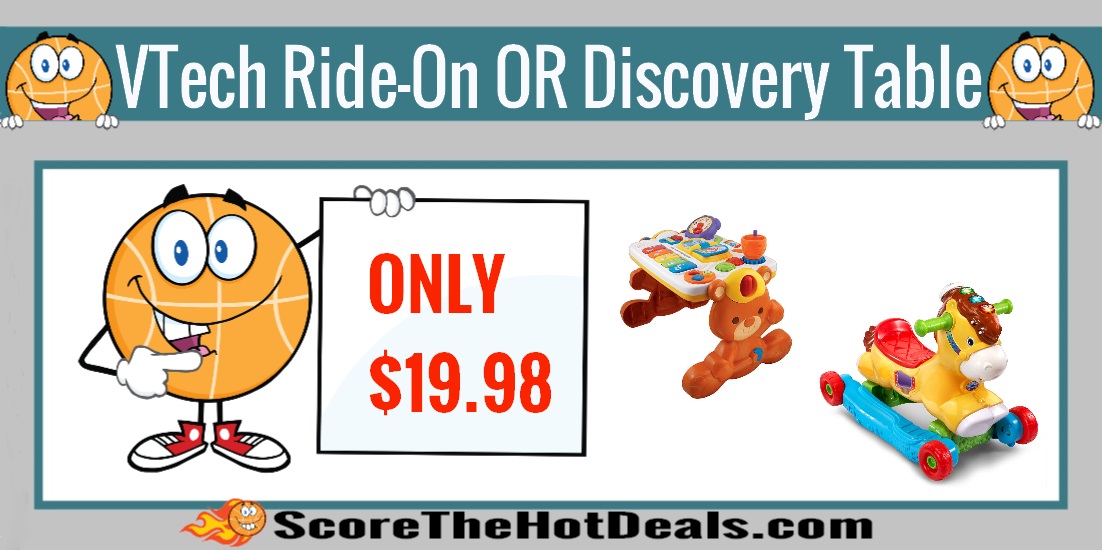 Head on over to ToysRUs and score your choice of the VTech Ride-On Pony OR Discovery Table for only $19.98! This is regularly and shipping is FREE on orders over $29 or you can opt for free in store pick up where available!
Grab the:
Head out to the stables and saddle up for educational and fun-filled adventures on this VTech Gallop & Rock Learning Pony. Your toddler can rock back and forth to trigger more than 60 sing-along songs, melodies, horse sounds and phrases for engaging play that demonstrates cause and effect while improving motor skills. Teach your young one about colors and animals by pressing the brightly colored buttons, and watch as the light-up roller bar flashes along with dazzling sounds. When your little ranch hand begins to grow up, modify the rocking horse into a ride-on toy to keep the spirit of the Old West alive throughout his or her developmental years.
OR
The minds of young children are sponges, soaking up every bit of information they receive by exploring and interacting with the world around them. The VTech 2-in-1 Discovery Table provides two times the learning fun, with an interactive learning side that rotates within the frame to become a drawing table. Develop knowledge of numbers, counting, shapes and colors with engaging activities with the table's electronic learning center. Compose original music on the colorful piano keys, spin the hand on the clock to make it snack time and crank the gears to spin the pencil cup. When it's time for a quiet activity, flip the table over to the drawing side to express creativity with doodles, scribbles and coloring. Explore a love of learning with the VTech 2-in-1 Discovery Table.