This post may contain affiliate links. For more on this please see the disclosure
FREE Printable Valentines
Lets face it buying generic valentines and candy is boring! Looking for unique and frugal ideas this Valentine's Day? Look no further! We have created 5 completely FREE Printable Valentines for you! Simply click the image you like, send it directly to your printer or copy/paste and save it then print on letter sized paper (card stock recommended), cut and enjoy! Kids can even draw a little picture or write a special message on the blank backs for their friends as well! 
Loving our free printables? Let us know below what other types of printable items you would like to see soon in the comments below!
**We recommend pairing these with some of our candy free gift ideas found here!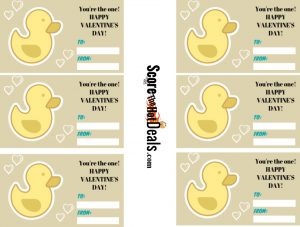 You're the one! Ducky Valentine's! 
These would be extra adorable paired with the V-Day Rubber Ducks Found HERE!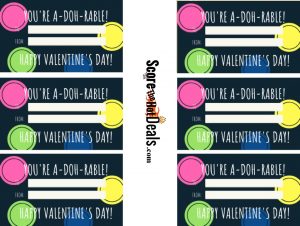 A-DOH-ABLE Valentine!
Perfect & fun paired with some of the Play-Doh deals spotted HERE!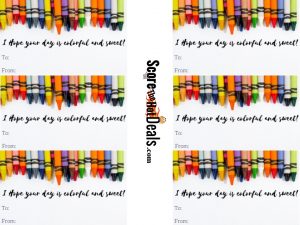 I hope your day is colorful Valentine: 
Consider finishing these off with some of the coloring, stamp or notepad deals spotted HERE!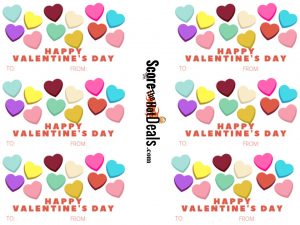 Heart Valentine!
Looking for a super affordable pairing for these? Consider some of the sticker faces or other deals spotted HERE!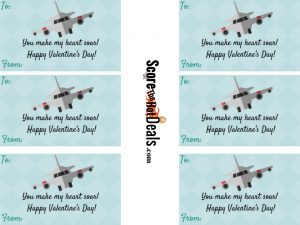 Make my heart soar airplane Valentine!
Soar your way to your little valentines heart when paired with the flying glider planes spotted HERE!
These free printables are meant for individual use only. Reproduction without permission is not permitted. Printable items are free to use and enjoy. No sign ups, follows, etc required although they are greatly appreciated!