This post may contain affiliate links. For more on this please see the disclosure
Fun Leprechaun Tricks For St. Patricks Day!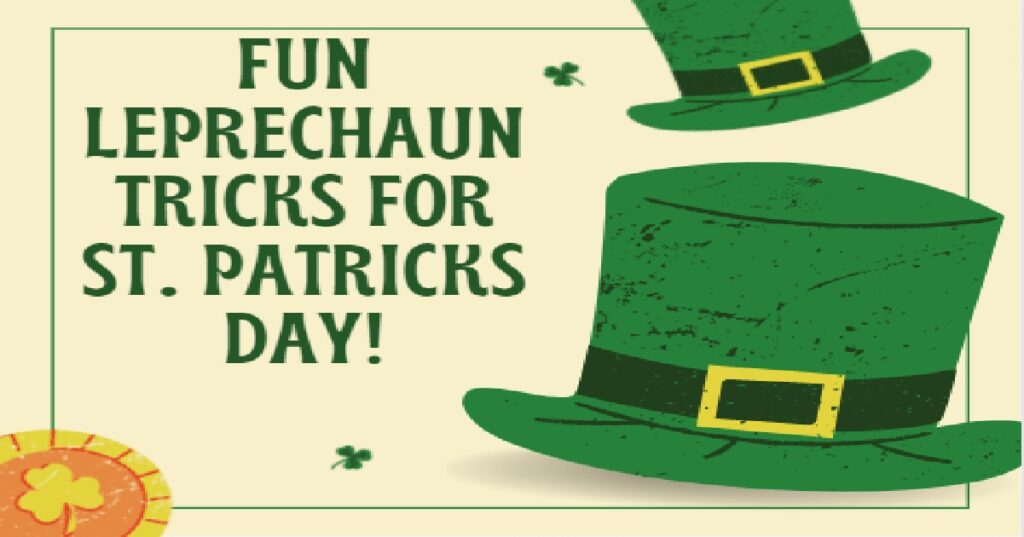 Does the leprechaun sneak into your house every year like it does mine? Looking for some Fun Leprechaun Tricks For St. Patricks Day! That sneaky little leprechaun is always up to some kind of hijinks! Check out our favorite little tricks below to make St. Patrick's Day memorable and fun this year! We also included some links to our favorite products on Amazon & Walmart as well!  (affiliated links) 
Bath tub paint is a fun way to leave a little message or picture! You could take it a step farther and grab some window paint as well to leave some cheer around the whole place!
2. Rearrange some toys or other objects into fun designs! Legos always make the perfect building medium, but you could be creative with pasta, stuffed animals, etc! 
3. Pick up some fun accessories and decorate some faces while they sleep! What a sneaky trick to wake up to! 
4. Grab some gold color mist and go to town on some sandwich cookies or other treats! As a bonus you get to eat them too! 
5. Our leprechaun puts food coloring in our milk every year! 
6. These magic leprechaun rocks look like a fun activity for St. Patricks day! It would also be fun to freeze random objects in ice balls and leave them to be found! 
7. Cover doors in crepe paper and decorate them that way they have to burst through them in the morning to get out!
8. The leprechaun using the toilet is a classic prank that many homes use! Last year our leprechaun (since he's small) brought his own toilet along! 
9. Balloon fun! Fill a room with balloons for fun OR even hide little surprises inside and write pop me on them!